Angie Mack
Hula-hooper
Details | Media clips | Contact us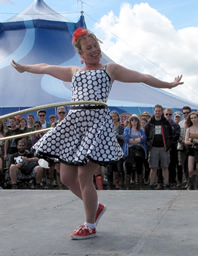 Hoops, hoops and more hoops! Everything you ever wanted and never needed to know about hula hooping.
Join Angie Mack on her hula hoop journey through the ages and across the globe, taking you from the giant 6-foot hoop, all the way through to the multi-hooping human tower.
Angie moves effortlessly across the performance space spinning and manipulating hoops at will before bringing the whole thing to a stunning finale.
This hooptastic interactive comedy show is jam-packed with highly skilled hula hoop tricks, iconic music and a whole lot of heart.
Media clips
Contact us