Anton
Testimonials | Media clips | Contact us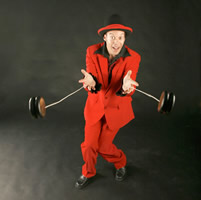 New Top Dog signing Anton introduces The Art of Yo Yo!
Dressed to impress, former English YoYo Champion Anton will take you on a journey from Rocking the baby and Splitting the atom to Two handed looping and Texas Cowboy. This YoYo champion can do all the classic tricks, as well as a few of his own creations.
Anton is a highly skilled and versatile performer with over a decade of experience at a wide range of events from street and festivals, to parties and corporate functions. He has been part of Team Yomega and also the world class Team High Performance and his skills have been seen worldwide.
An engaging and comical performer, guaranteed to stand out in a crowd!

Testimonials
"A champion entertainer with skills to match!" – Jennifer Baybrooke (1999 World Yoyo Champion)
"Great energy and a creative individual" – Dale Oliver (World YoYo Master)
Media clips
Contact us