Artistic Tennis Entertainment
Details | Media clips | Contact us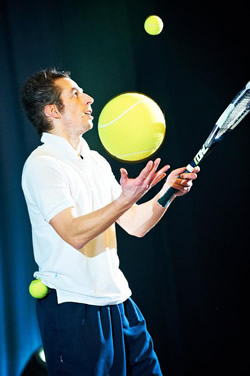 Antoine is an artistic tennis entertainer hailing from France. With credits including appearances at the 2012 and 2013 French Opens at Roland Garros in Paris, as well as the Monte-Carlo Rolex Masters, the BNP Paribas Zurich Open and the Banc Sabadell Barcelona Open, you can be sure that booking Artistic Tennis Entertainment for your event will bring world class and unique flair.
And it's not just racket juggling, oh no! Antoine's show is both modern and extremely versatile, using the whole range of tennis accessories and able to adapt to all environments from tennis courts to stage to close-up performances at VIP events. His act can directly involve and engage members of the audience, making it all the more memorable for everyone.
Antoine is also an accomplished basketball entertainer, and has brought his talents to some of the biggest events over the years, including the NBA, World Championship and Euroleague All-Stars.
Take a look at our photos and video clips below to get a feel for what Antoine might be able to bring to your event to make it extra special and then contact us to find out more!
Media clips
Contact us