Chris Richards
Magician
Details | Media clips | Contact us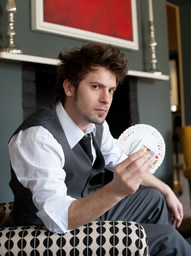 Chris Richards is a ground-breaking magician and an elite entertainer. He has been entertaining for over fifteen years and has an endless wealth of knowledge in not only close-up magic, but a variety of performance types from hypnosis to acting.
The winner of the Entertainment category at the 2009 Business Awards, Chris is highly involved with premier companies and global brands, top bars, clubs and high-end establishments – never far away from the eye of the excitement.
Whatever and wherever the event, you can be assured that entertainment provided by Chris Richards is of the utmost quality.
Media clips



Contact us