CIX
RubikCubist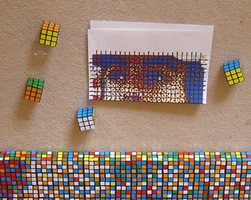 CIX (a.k.a. David Hyde) is a modern contemporary artist making his pieces entirely out of Rubik Cubes. Since 2008 he has been the front runner in evolving the new art movement of RubikCubism worldwide.
CIX was born in Leeds and studied art from a young age. After studying at University in London and with no formal training, he has taught himself and expanded the art form of RubikCubism to the extent that he is widely regarded as the front runner in the art movement. He mainly focuses on portraits, but has evolved his pieces to include landscapes, animals, architectural and corporate logos. CIX has recently started performing interactive pieces where the public can join in and help complete the works or simply have fun playing with the variety of cubes on show. On the 30th anniversary of the Rubik Cube, it is exciting to watch the children of today enjoying and participating using the world's best selling toy, as well as the parents fondly revisiting their youth. CIX has exhibited in galleries in UK, Abu Dhabi and Dubai, and will be exhibiting in New York during 2011. His pieces have been sold in England, Europe, America, Asia and the Middle East, with private commissions produced for individuals, English Premier League footballers and International Corporations and art collectors alike. He holds many artists in admiration and for inspiration, among whom are Andy Warhol, Banksy and Roy Lichtenstein. CIX is happy to do commissions and will generate a template from a photo for approval prior to commencing the work, so that the client is able to see exactly what the completed piece will look like.
For details on how you can commission CIX for a private event, or for a private commissioned piece, please contact us below.
Media clips
Contact us