Daniel Alexander
Magician
Details | Media clips | Contact us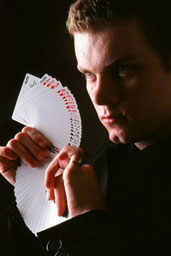 From London to St Petersburg, from Hollywood to Venice, people have been left astounded by the magic of Daniel Alexander. An expert in different cultures, Daniel can address your guests or potential clients in over twenty languages.
With over a decade's-worth of experience, Daniel has performed in some incredible and prestigious locations. These include Buckingham Palace, the Kremlin, Durham Cathedral, the residence of Sheik Whalid of Saudi Arabia, the Magic Castle LA, Harrods of Knightsbridge and the Ivy Restaurant. He has also appeared on MTV.
Your guests will be captivated by Daniel's incredible displays of magic. With this contemporary and interactive entertainment, Daniel will contribute to and help build the desired atmosphere of your event - be it flamboyant, commercial or intimate.
Daniel has extensive experience and acclaimed abilities in:
• Entertainment for exclusive events
• Generating leads and guaranteeing crowds at trade shows and exhibitions
• Speaking on communication, memory techniques and rapport building
See the multimedia clips below to watch Daniel's promotional showreel!
Media clips


Contact us