Graffiti artists
Details | Media clips | Special gallery | Contact us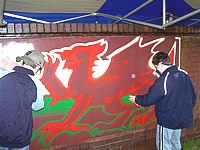 Top Dog Promotions are proud to represent some of the UK's top graffiti artists who have painted all over the world at various events including Grands Prix, festivals and on television for BBC, ITV and Channel 4.
One speciality is "Live Painting" at youth events, festivals and corporates. Our artists can work on their own or they can include closely supervised volunteers who would like to try their hand at "art with a spray can"! Often our artists are booked to paint a piece live at an event or at the back of a stage at a festival. Seeing the piece unfold during the event is something that people of all ages can't help but marvel at. At the end of the event you have a piece of art - created while you wait!
Discussions on design are encouraged and welcomed. Characters, words and logos can be designed and painted to your specification.
If you would like a youth room livened up, a logo sprayed on a wall or a board, a community project to brighten up an underpass and get local kids off the street, then give us a call. The sky is the limit as to where our artists' graffiti skills can be used, so, get your thinking caps on and click below to ask about booking their considerable talents!
"Just to say - yesterday went really well and we were really happy with the graffiti work. Please say a big thank you to your artist, he was a pleasure to work with and I wouldn't hesitate to recommend him. He created a lot of interest, his work is fantastic and we are going to frame it and put it up in our new offices." - Ann Frances Jeffrey, Cohesion Design Services Ltd
"Your artist was great to work with. Very easy to get on with, he is able to put young people at ease straight away. Reliable, helpful and beautiful art work, this graffiti artist is good on camera as well as with a can of paint!" - Caledonia TV, Teens on Trial for Channel 4
"I brought six of our youth group to Saturday's event where your artist was painting. Seeing graffiti used in a positive way like this was very inspirational for the youth and myself. Three days later we have applied for funding to have someone like him come and paint our youth centre with the local young people!" - Mr S Jones, Cephas Project, Huddersfield
"I wanted to drop you guys an e-mail to let you know how happy I was with the graffiti workshop on Friday. Not only are their artistic talents superb but they were able to command respect from the young people that I have not seen done by any other artists I have employed. I asked the young people to complete a quick questionnaire and they all rated the workshop as 'excellent'. I look forward to working with you in the future." - Fiona Paul, Youth & Projects Officer, Hertsmere Borough Council
Media clips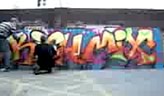 Special gallery
As a special feature, we've put together a gallery of samples of our artists' work, so you can decide for yourself what kind of thing you might like painted at your event! Click here to enter!
Contact us