Origami
Details | Media clips | Contact us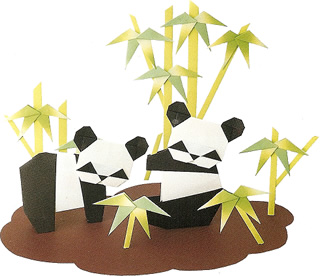 An intriguing close-up interactive performance of origami with a magical twist! Steve amazes people of all ages by producing with just a few folds delightful paper creations, which can be taken away and kept forever.
Steve has been professionally involved with origami as a means of entertainment for almost thirty six years and is extremely experienced in working on a diverse range of projects both in the United Kingdom and overseas. His exciting and visual performance can be presented with Japanese, French or English 'patter', hence making the performance suitable for an international audience. He is a member of Equity, The Japan Society, numerous worldwide origami organisations and the most famous magical society in the world, The Magic Circle, where he holds the degree of Associate member of the Inner Magic Circle with Silver Star.
What makes Steve's dexterity so enchanting and spellbinding is the incredible speed at which he works to fashion such palm-sized works of art. Entertaining quests at any occasion is an absolute art form, one that Steve has perfected, combining superb folding with his warm and approachable personality. Plus his charismatic personality ensures that everyone has an enjoyable time, full of amazement and entertainment.
In addition, the choices of material Steve selects specially with any given design in mind elevates each piece to something of a unique and treasured keepsake, a souvenir of the event, often folded in appropriate colours, or in relation to the style or theme of the occasion. His versatile and innovative close-up origami works in any social situation and always leaves a memorable impression on guests for a long time after the performance is over. It's the perfect icebreaker, encouraging the guests to engage, relax and interact with each another.
Steve has worked with numerous global and national clients including:
Animus Productions, BBC Television, Channel 4, Mentron Media, Lacoste, The Royal Opera House, Japan Airlines, Virgin, HSBC, J Walter Thompson Limited, West End Productions, Science Museum, Tokyo Metropolitan Government, Du Pont Limited, Mitsubishi & Nissan.
Rest assured you are in Steve's safe, imaginative and artistic hands. He always does what is promised – without fail, taking the hassle out of projects, acting as an extension of your companies high standards, but above all keeping your guests interests at heart. Steve is friendly, professional, understanding and approachable and what comes across the most is the fact that he loves being creative and performing!
Media clips
Contact us